When searching for our office, take a look at Lafayette's skyline - we're somewhere there, waiting for you!
Meet us at West Main and Jefferson, where we're waiting to help you build your new future.
Feel invited to set an appointment and join us in getting started with finding your next home.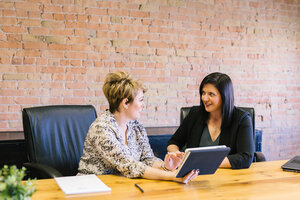 What we've got to offer
Our team of professionals at Main Street will support you when purchasing or renting the perfect house or selling your existing property. No matter what your real estate needs are, we're here to help you achieve all of your goals with a minimum effort from your side. Put your faith in experienced agents who have your best interest at heart at all times, and go the extra mile to make sure you're satisfied with the results.
What should you expect?
Our real estate journey is usually a once-or-twice-a-life activity for many of us, so it's easy to feel overwhelmed when entering this unknown ground. Some parts of the process have recently become more accessible through technology, but when every buyer has access to the same technology and resources, it's tough to stand out in a crowd so the decision is still tough.
There's a lot more to the journey than just finding the home: you need to figure out financing, negotiate on price, take care of necessary inspections, and make sure everything is handled properly before closing the deal. That's why working with a trustworthy real estate professional is a key to your success and we'd love to help you navigate through this complex process.
Why Lafayette?
The hub city of Louisiana, Lafayette is the fifth largest city and fourth largest incorporated city in the state. If you love people just as much as we do, you'll certainly feel like home here. Living in this wonderful town, at any given moment, you cannot be bored. When you feel like there's nothing to do (but come on, it won't happen) just sit on a park bench with a cup of coffee in hand and watch the passersby rushing down the street. You can also call us and we'll meet you there to discuss the strategy for your real estate adventure.